J-435™
Designer Spacious Entertainer's Hot Tub
With 5 seating options, the J-435™ hot tub offers privacy, a forward-facing lounge, and a jetted cool down seat, making this seven-foot spa a popular model.
A high-back design offers privacy, protection from the elements, and the best hydromassage experience
Great for runners or anyone who has tired legs, a therapeutic lounge seat offers a unique massage for overall stress relief, including wrist jets and a complete set of leg jets.
Two cool-down seats –one of which has jets — give you the option to enjoy your hot tub without immersing yourself completely.
Specs
Spec

J-435

Seating Capacity
5-6 Adults
Dimensions

84 in x 84 in x 37.5 in – 43.5 in back

/

213 cm x 213 cm x 95 cm

– 110 cm back

Average Spa Volume
360 gallons / 2,037 liters
Dry Weight
822 lbs / 373 kg
Total Filled Weight
4,492 lbs / 2,037 kg
Pump 1
North America 1 speed, 2.5 continuous hp (5.1 brake hp*)
International 1 speed, 2.0 continuous hp (2.6 brake hp*)
Pump 2
North America 1 speed, 2.5 continuous hp (5.1 brake hp*)
International 1 speed, 2.0 continuous hp (2.6 brake hp*)
Circulation Pump
Yes
Water Purification
CLEARRAY®
Filtration
ProClarity™ Filtration System with Grill, Skimming Weir and ProCatch Bag
Filters
1 – ProClarity™ depth load filter (circ)
1 – ProClarity™ 40 sq ft. cartridge filter (circ)
1 – ProClear® 75 sq ft cartridge filter (hydro)
Electrical North America
240VAC @ 30A/50A/60A
Electrical International
230-240VAC 50 Hz 32A. 20A/16A, 16A/16A/16A

Colors & Cabinetry

Cabinetry
Modern Hardwood, Brushed Gray, Smoked Ebony
Shell Colors**

Platinum, Silver Pearl, Monaco, Midnight, Sahara, Porcelain

Jets

Total Jets
47
PowerPro® NX2
6
PowerPro® PX
2
PowerPro® FX
9
PowerPro® FX Large Rotational
3
PowerPro® IX
–
PowerPro® FX Small
10
PowerPro® FX Rotational
6
PowerPro® RX
8
PowerPro® MX2
3
Features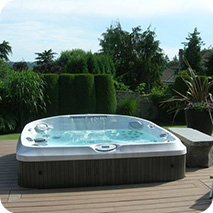 J-400™ Double Waterfall Design
The exclusive high-back Jacuzzi® silhouette, premium LED lighting throughout and backlit double waterfalls that cascade down your neck and back make J-400™ Hot Tubs a sight to behold.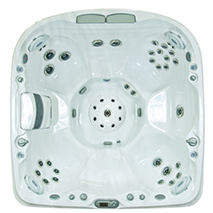 J-400™ Open Seating
The open seating design offers a wider variety of seating and massage, including nine distinct PowerPro® Jets. The RX Jets, our best jet yet, knead key muscles and nerves to relax the back. In addition, PowerPro® jets that rotate and swirl pamper, stimulate and penetrate your muscles from your neck to your feet in upright seats.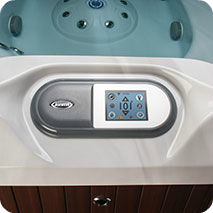 J-400™ ProTouch™ Control and ProLink™ app
The full-color ProTouch™ Control paired with the ProLink™ app helps you stay informed of the status of your hot tub, schedule maintenance reminders and adjust temperature and jet functions.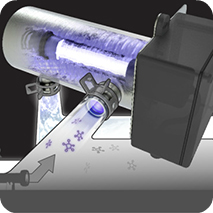 CLEARRAY® Plus 5-stage filtration
CLEARRAY® utilizes the same UV-C technology that beverage manufacturers, municipal waste water plants, hospitals and other health care environments use without producing or adding gas, chemicals, or other by-products to the water as a result. Learn More. And a 5-stage water filtration system achieves the cleanest water in the shortest amount of time by utilizing five-stages: ProClarity® Filter, ProClear® Filter, ProCatch™ Filter Bag, surface skimmer, and a pleated filter.